The U.S., China and the yuan
The U.S., China and the yuan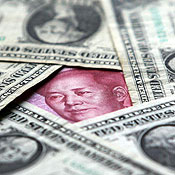 For years now, the U.S. has been pushing China to let its currency float. Back in 2007, when I was in graduate school working for Voice of America in Hong Kong, I got my first lesson about the devaluation of the yuan and why the U.S. really wants its value to rise. I have been trying to get a grip on it ever since.
But the story of yuan goes way back before me. I was curious so I went searching for a little bit more history. I found a nice little timeline from Reuters that was posted in the fall of 2009 when President Obama was set to visit China. He promised to push the issue of the exchange rate with the Chinese. Here it is.
The debate has raged on into 2010. In March, Congress started to ask again that the administration pressure China about its currency. On September 29, The U.S. House of Representatives voted in favor of a bill that could pave the way for sanctions against China.
As a nonprofit news organization, our future depends on listeners like you who believe in the power of public service journalism.
Your investment in Marketplace helps us remain paywall-free and ensures everyone has access to trustworthy, unbiased news and information, regardless of their ability to pay.
Donate today — in any amount — to become a Marketplace Investor. Now more than ever, your commitment makes a difference.