Underneath the veils, Saudi women are oh-so pretty
Underneath the veils, Saudi women are oh-so pretty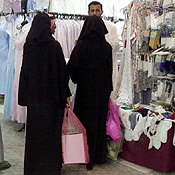 The head-to-toe black robes women wear in Saudi Arabia don't show much, but rest assured, Saudi women make sure they look their best. Saudi women spend more money on hair care and make up per capita than other women in the Middle East. Last year, they spent $2.4 billion on cosmetics and analysts expect that amount to increase by 11 percent this year, according to this Washington Post article.
So what's the point in getting all dressed up with no one to see you? Well, other women can look at other women without a chador — like future mother-in-laws. Also, because of the strict gender segregation and bans on public entertainment like movie theaters and clubs, women make the most of the few social opportunities they have:
"Weddings are the most important events and a good opportunity for us to dress up," [Noura] Saed said. "Men often complain that we spend a lot on appearance. Well, if you live in Riyadh, what else can you do but shop?"
Even though the beauty industry is thriving in Saudi Arabia, the country's laws restrict beauty parlor licenses. Only those with a "dressmaker's license" — a tailor is on premise of the salon — or special connections can avoid raids by the religious police. And many religious leaders would prefer that women stay covered, as much as possible:
"Sheik Mohammad al-Habadan, a religious commentator, recently suggested that women should show nothing more than one eye in public. Revealing both, he said, could promote lascivious thoughts."
There's a lot happening in the world.  Through it all, Marketplace is here for you. 
You rely on Marketplace to break down the world's events and tell you how it affects you in a fact-based, approachable way. We rely on your financial support to keep making that possible. 
Your donation today powers the independent journalism that you rely on. For just $5/month, you can help sustain Marketplace so we can keep reporting on the things that matter to you.  
Latest Episodes From Our Shows