Butterbeer and branding at the Wizarding World of Harry Potter
Butterbeer and branding at the Wizarding World of Harry Potter
The California theme park wars are heating up. Universal's latest challenge to Disneyland is The Wizarding World of Harry Potter, which opened this week. The Harry Potter franchise has raked in billions, and Universal has already tapped into the built-in audience of film and book fans in Florida. 
Analysts expect the Harry Potter addition in Hollywood will immediately increase park attendance by 20 percent, and could bring in $100 million for Universal in the next year. The first few days after opening sold out in pre-sales, and while the themed rides have proved popular, Universal is banking on concessions as a major hook. Harry Potter comes with a menu — Butterbeer, Chocolate Frogs, Bertie Botts Every Flavour Beans, three proprietary alcoholic wizard beers — the list goes on and on.
The park itself looks like a picture perfect recreation of a film set —  the Hogwarts castle looms on a hill above the snow covered buildings and stone-paved streets. Shops sell the same candy fans have been reading about for nearly two decades, and many onlookers seem more excited about the village than the land's two rides. 
The movie-accuracy of the park is a direct result of who built it. Many of the Wizarding World of Harry Potter designers worked on the films, including art director Alan Gilmore, who was the art director for some of the Potter movies. He and his team consulted with JK Rowling on nearly every element of the park, including the menu.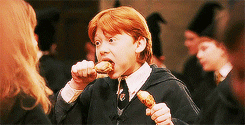 "You can have the same sweets that Harry and Ron and Hermione ate, you can have the same taste experience that they have," Gilmore says, "it's another layer to the world."
Nailing the food was a big deal for Universal. Some estimates say concession sales account for about 30 percent of amusement park profits, and in the Harry Potter franchise, which has a built in menu, fan expectations are especially high.
The most sought after taste of Harry Potter can be found at one of the Butterbeer stands — the beverage, imagined by JK Rowling, is a top-seller in the park — it comes in hot, cold, and frozen versions. Perfecting JK Rowling's vision of the drink was quite a task for the chefs at Universal. Butterbeer was tested over 15 times, once by JK Rowling herself. And there were mandates from Universal — that the beverage not use any allergens, like nuts, dairy, or gluten — and from Rowling, who insisted on real sugar instead of high fructose corn syrup.
The end result is a frothy sugar bomb that tastes like butterscotch and shortbread. The drink became an instant hit in Orlando, and is equally popular in Hollywood. The flavor had such potential that chefs in Universal's Orlando park created Butterbeer fudge and ice cream. In Hollywood, the park's head chef Eric Capello turned Butterbeer into a restaurant style pot de creme dessert. Capello says that the flavor's potential doesn't stop there.
"Of course we wanted to find another home run," Capello says, "there's more to come with other opportunities that we see with the Butterbeer, and this was just the beginning of the future for us."
There are no leaks yet on new Butterbeer dishes, but Universal seems eager to make the flavor the next chocolate or vanilla. Expanding a brand like Butterbeer definitely has its bonuses. Sam Oches, editor at QSR Magazine, which writes on the quick service and fast casual food industry, says Butterbeer, in all its iterations, is a goldmine.  
"As we've seen with franchises in the past like Star Wars, or Lord of the Rings, or whatever, you can make so much money off of these franchises even through loose affiliations," Oches says. So even though fans won't recognize some of the new versions of Butterbeer flavored concessions, they're likely to be cash cows.
"I think that's a genius idea," Oches says, "I think there's so much opportunity."
A Butterbeer will run you somewhere between $4.50 and $6.50, depending on whether you have it hot, cold, or iced. Part of its draw may be the fact that it's an in-park-only experience. 
Universal VP of Food Morrell Morean says that even though you can buy some Harry Potter candy and merchandise in stores and online, fans are unlikely to see bottled Butterbeer on the shelves at the grocery store.
"That's not something we would seek to do…this is part of a fully immersive, themed experience that's authentic," Morean says, "we would never want to touch that."
The exclusivity is definitely helping Universal rake in the galleons, and if everyone who visits the park buys a Butterbeer, that's a huge profit for Universal. But Sam Oches says that the company could be missing an opportunity to sell some of it's themed goods — Butterbeer, yes, but more potently, some of its wizard-branded alcohol — outside the park.
"You're sitting on a goldmine. If you consider the fact that … millennials grew up with Harry Potter books, millennials, now of age, are looking for artisan liquors and artisan beers, millennials are the ones who love these products with stories behind them," Oches says, "Harry Potter, perhaps more than any other franchise, has the power to tap into millennials like no other."
For millennials and anyone else looking to try Butterbeer or wizard beer, a taste of JK Rowling's imagination still comes with the price of park admission.
There's a lot happening in the world.  Through it all, Marketplace is here for you. 
You rely on Marketplace to break down the world's events and tell you how it affects you in a fact-based, approachable way. We rely on your financial support to keep making that possible. 
Your donation today powers the independent journalism that you rely on. For just $5/month, you can help sustain Marketplace so we can keep reporting on the things that matter to you.  
Latest Episodes From Our Shows