How much caffeine is in that Starbucks cup?
How much caffeine is in that Starbucks cup?
This final note is for those of you who are seriously wired every morning. If you buy coffee instead of brewing it, the amount of caffeine you get varies, depending on where you go. The website Thrillist did a little investigating. McDonald's had the least caffeine: 9.1 milligrams per ounce. Dunkin' Donuts: In the middle with 12.7 milligrams.
And the terrifyingly-named Deathwish Coffee topped the list: 54.2 milligrams caffeine per ounce. Basically enough to keep you up until October.
Via Thrillist: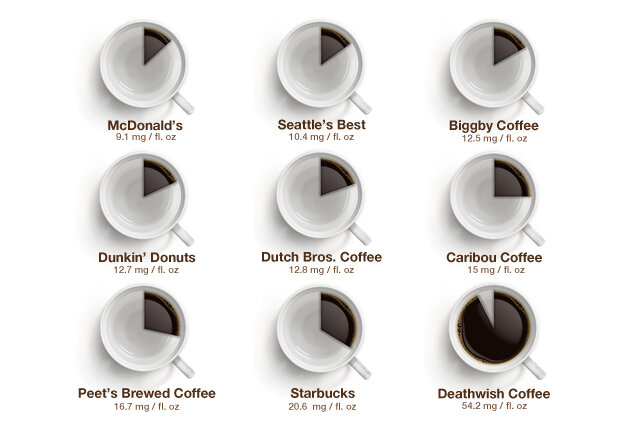 There's a lot happening in the world.  Through it all, Marketplace is here for you. 
You rely on Marketplace to break down the world's events and tell you how it affects you in a fact-based, approachable way. We rely on your financial support to keep making that possible. 
Your donation today powers the independent journalism that you rely on. For just $5/month, you can help sustain Marketplace so we can keep reporting on the things that matter to you.  
Latest Episodes From Our Shows