U.S. tennis tries to net more young players
U.S. tennis tries to net more young players
Kai Ryssdal: Should you find yourself watching a little Wimbledon this weekend, you may see an ad between the aces and volleys that's not really meant for you. It's more aimed at the kid sitting next to you on the couch.
Andrea Gardner explains tennis is doing all it can to get a share of the youth market.
---
Andrea Gardner: Think of it as a the tennis version of t-ball.
Nine-year-old Brianna Rubio is one of 120 kids practicing ground strokes at Harvey Elementary School in Santa Ana, Calif.
Brianna Rubio: Hit the ball, and stay focused on the ball. And not let it go out of the lines.
Her coaches are using a teaching method known as "10 and Under Tennis." The nets are lower. The courts are about half the size of standard courts. And the balls are specially designed to move more slowly with less bounce. The United States Tennis Association is planning to spend about $8 million this year to promote 10 and Under Tennis with a nationwide ad campaign and grant money to local programs. The one at Harvey Elementary got $5,000.
Kurt Kamperman heads community tennis programs for the USTA.
Kurt Kamperman: We felt that we needed to make the game more fun, and allow kids to be more successful more quickly.
That's because tennis is facing competition from sports that kids can pickup more easily, like soccer.
Kamperman: You can put 20 six year olds on a soccer field, and kick the ball, and its just like a hoard of bees just chasing it. But everybody feels like they're playing and having fun.
With tennis — not so much. Six year olds don't have the height or coordination to control a traditional ball on a standard-sized court. And by the time they reach a more appropriate age for tennis, many kids have already committed to other pastimes.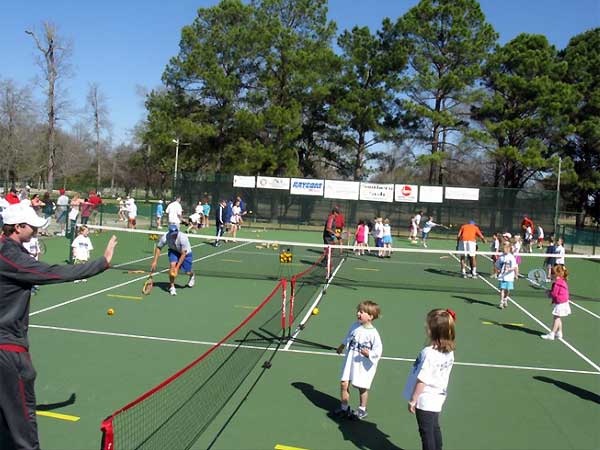 A 10 and Under Tennis festival is held during the Blue Gray Collegiate Tennis Classic.
Peter Carlisle is a consultant with Octagon Sports Marketing.
Peter Carlisle: You are really having to market your sport to the same group of kids. And they're being forced to make a decision at an age where they probably either haven't tried your sport or haven't experienced it in a realistic way.
The push comes at a challenging time for tennis in the U.S. Tennis is a $5.5 billion business here. According to the tennis industry association, that includes equipment, clothing sales, club memberships, tournament attendance and TV revenue. But the number of self-described "frequent players" has been flat for the past 10 years. And the ranks of American champions on the world stage has been on the decline. USTA hopes 10 and Under Tennis can help reverse both trends. Kamperman says European countries have had similar programs for decades.
Kamperman: We think we can get just masses of more kids introduced to the game, and keep them in the game. And if we do that we're gonna have a larger pool of athletes.
Sports marketing consultant Peter Carlisle says few things draw more attention to a sport than a high-profile champion. He points to what Tiger Woods did for golf or Tony Hawk for skateboarding.
Carlisle: It's like a chicken-and-egg argument. Because you sort of need the star to grow participation. And you need participation to grow the star. And so I think most sports that effectively market themselves do focus on both of those things.
The USTA hopes young players like Brianna Rubio will hatch into full-fledged competitors.
Gardner: Do you think you could be the next Serena Williams?
Rubio: Yeah!
In Los Angeles, I'm Andrea Gardner for Marketplace.
There's a lot happening in the world.  Through it all, Marketplace is here for you. 
You rely on Marketplace to break down the world's events and tell you how it affects you in a fact-based, approachable way. We rely on your financial support to keep making that possible. 
Your donation today powers the independent journalism that you rely on. For just $5/month, you can help sustain Marketplace so we can keep reporting on the things that matter to you.  
Latest Episodes From Our Shows