How social media plays into nonprofits and fundraising
How social media plays into nonprofits and fundraising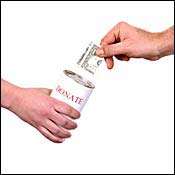 This year, as we were putting together our annual survey on philanthropy, we noticed a running theme: How social media and technology are helping nonprofits reach out to supporters in entirely new ways. One of the ways that's happening is in fundraising, so we started the series with a look at how nonprofits are raising money by harnessing people's online relationships.
Nonprofit organizations are hiring social-network managers to build these communities of supporters that will "like" the group's cause on Facebook, retweet their requests for action, and hopefully donate money. The charity world is still learning how to use these tools to their advantage. Marketplace's Jennifer Collins did a story on how some nonprofits used social media successfully, like the Salvation Army's "virtual bell ringer" idea.
Many critics question how effectively social media can spur action. Malcolm Gladwell's recent article in The New Yorker argues against the conventional wisdom that social media is changing the face of political activism. Gladwell says that social networks favor weak-tie relationships and "are effective at increasing participation – by lessening the level of motivation that participation requires."
Nonprofits are watching this debate closely as they determine the power of social networking as an organizing and fundraising mechanism. As Susan Citro, director of digital membership at the Nature Conservancy told The Chronicle of Philanthropy, "Direct mail has had 25 years to figure out its strategy, the Web has had 10, and social media is in its infancy."
And from donating money to donating time, we also spoke to Catchafire CEO and founder Rachael Chong about her New York City-based startup, which connects skilled volunteers with nonprofits that need their help. For those outside the NYC area, and until the site expands nationally, here are some more resources Rachael recommends for volunteers:
And here's more on Catchafire's "Give What You're Good At" holiday campaign. They're trying to raise $1 million in pro bono professional services for New York City-based nonprofits and social enterprises.
There's a lot happening in the world.  Through it all, Marketplace is here for you. 
You rely on Marketplace to break down the world's events and tell you how it affects you in a fact-based, approachable way. We rely on your financial support to keep making that possible. 
Your donation today powers the independent journalism that you rely on. For just $5/month, you can help sustain Marketplace so we can keep reporting on the things that matter to you.  
Latest Episodes From Our Shows