How can I become a Certified Producer?
How can I become a Certified Producer?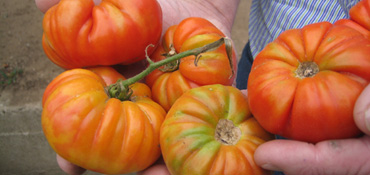 Marketplace's Eve Troeh did a story on Forage, a restaurant in Los Angeles that uses produce from neighborhood gardeners in their menu. Initially, anyone could drop in and see if their plums or carrots could make it into a Forage dish. But the county of Los Angeles put a kibosh on that idea, saying that growers needed to be certified before they can peddle their garden wares.
Well, Forage got a few growers certified, and they're back to living up to their name. If you live in Los Angeles County and want to contribute your bounty to a restaurant or sell it at a local farmers' market, here's instructions from the County of Los Angeles' Agricultural Commissioner/Weights & Measures on how to get certified.
Q. How can I sell at a Certified Farmers' Market?

A. Anyone growing fruits or vegetables in Los Angeles County qualifies to become a Certified Producer and participate in a Certified Farmers' Market. Becoming a Certified Producer is easy. Contact our office at 562-622-0426 to set up an appointment for inspection. An inspector will inspect your growing grounds to verify the agricultural products which are being grown. The inspector will need to know the commodity and variety being grown, quantity being grown, harvest and season, and the estimated production yield. In addition, you will be asked which counties you wish to sell in and how many embossed copies you need. The cost to become a Certified Producer is $63. Following the inspection, an embossed certificate will be mailed to your residence. This certificate must be prominently displayed at all times when selling at a Certified Farmers' Market.
There's a lot happening in the world.  Through it all, Marketplace is here for you. 
You rely on Marketplace to break down the world's events and tell you how it affects you in a fact-based, approachable way. We rely on your financial support to keep making that possible. 
Your donation today powers the independent journalism that you rely on. For just $5/month, you can help sustain Marketplace so we can keep reporting on the things that matter to you.  
Latest Episodes From Our Shows