Become the mayor of your local STD clinic!
Become the mayor of your local STD clinic!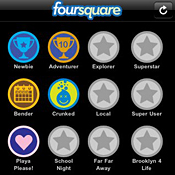 Overshare is reaching new heights with the latest from Foursquare, the phone app that let's you "check in" to places so friends (and strangers) can know where you are.
According to this Associated Press article, Foursquare teamed up with MTV's "GYT: Get Yourself Tested" campaign.
Stephen Friedman, the general manager of MTV, said he expects that some people will decide to get the badge despite the social stigma surrounding STDs. And once they do, their friends may, too.

"It only takes a few to get the ball rolling," he said. The point is to make these checkups as commonplace as going to the dentist or getting a physical.
Foursquare users can earn badges a la Girl/Boy Scouts depending on where and how many places they check-in too. After checking in to clinics, presumably to get screened for STDS, Foursquare users can earn a lime green and black badge, with the letters "GYT" emblazoned in the middle.
There's a lot happening in the world.  Through it all, Marketplace is here for you. 
You rely on Marketplace to break down the world's events and tell you how it affects you in a fact-based, approachable way. We rely on your financial support to keep making that possible. 
Your donation today powers the independent journalism that you rely on. For just $5/month, you can help sustain Marketplace so we can keep reporting on the things that matter to you.  
Latest Episodes From Our Shows