Wal-Mart's smart tags: Good business tactic or an invasion of privacy?
Wal-Mart's smart tags: Good business tactic or an invasion of privacy?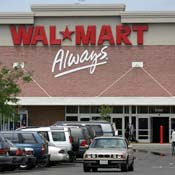 Wal-Mart will be putting radio tags on clothing sold at its stores — from tops all the way down to the tighty-whiteys you pick up at the stores. The company says that they are doing it to better control their inventory. From the Wall Street Journal:
"Starting next month, the retailer will place removable "smart tags" on individual garments that can be read by a hand-held scanner. Wal-Mart workers will be able to quickly learn, for instance, which size of Wrangler jeans is missing, with the aim of ensuring shelves are optimally stocked and inventory tightly watched. If successful, the radio-frequency ID tags will be rolled out on other products at Wal-Mart's more than 3,750 U.S. stores."
Aside from helping Wal-Mart maintain inventories that reflect customer demand better, tags may also be helpful in case of a recall or to verify if something is authentic or a counterfeit. Department store Bloomingdale's has experimented with the technology, and many European shops fully embrace this technology.
But critics are concerned that customers can be scanned without their knowledge. Some states also have new licenses that have radio frequency tags, and privacy advocates say that retailers could scan people's licenses — without their knowledge — and couple that with purchase data.
To assuage privacy invasion concerns, Wal-Mart is demanding that their suppliers add the tags to removable labels and packaging, instead of embedding them into items.
The tags are removable but…
"….they can't be turned off, and they are trackable. Some privacy advocates hypothesize that unscrupulous marketers or criminals will be able to drive by consumers' homes and scan their garbage to discover what they have recently bought."
What do you think? Wal-Mart says it wants to meet customer demands better through this technology, but there is the potential you can be scanned for perhaps marketing purposes,
But also realize, in this day and age of the Internet, it's impossible to hide — radio frequency tags or not. Check out Stacey Vanek Smith's stories on how marketers get to know a lot about us through data mining — "Data mining pushes marketing to a new level" and "Get to know Stacey, the savvy single." Also Stacey blogged about a few of the "clusters," or categories, marketers may put you in, based on the information they collect on you.
There's a lot happening in the world.  Through it all, Marketplace is here for you. 
You rely on Marketplace to break down the world's events and tell you how it affects you in a fact-based, approachable way. We rely on your financial support to keep making that possible. 
Your donation today powers the independent journalism that you rely on. For just $5/month, you can help sustain Marketplace so we can keep reporting on the things that matter to you.  
Latest Episodes From Our Shows