In China: More kids or more stuff?
In China: More kids or more stuff?
TEXT OF STORY
Kai Ryssdal:Our series on China's one-child policy this week has been about exactly that. How most couples there are limited, by law, for the past 30 years, to having just a single child. There are some exceptions — for farmers, and members of some ethnic minorities and also an entire county in north China, where parents can have more children but often don't.
Here's our Shanghai correspondent Scott Tong with part three of his series.
---
Scott Tong: The county of Yicheng could be just about anywhere in China. Pop songs drift out of small stores, hawkers peddle cell phones and then, there's a standard-issue burger joint.
Seven-year-old Qin Yutao's inside. He's the one blowing bubbles into his Coke.
Qin's an only child, but didn't have to be. Yicheng's an experimental county, where each family can have two children, not just one. But Qin's dad, Qin Yijiao, didn't want two.
Qin Yijiao: The economic burden is heavy. We have to pay for weekend activities: Music, art classes, dancing, tutoring.
That spending drains money from dad. He's a courier, driving a beat-up VW Jetta. The car runs fine, but he wants to trade up.
Qin: Ferraris, the Audi 8. They're all here. Mercedes, BMWs — I want one, too. But if you don't have enough money and too many children, it's a problem.
Call the phenomenon "Keeping up with the Wangs." China market researcher Mary Bergstrom sees this a lot. The dilemma is, more kids or more stuff?
Mary Bergstrom: Just because people live in rural China or lower-tier cities doesn't mean they have any less exposure to a lot of the different things that young people all over China are wanting. It's a question of, do you want to have those for yourself, or are you willing to give those to your children?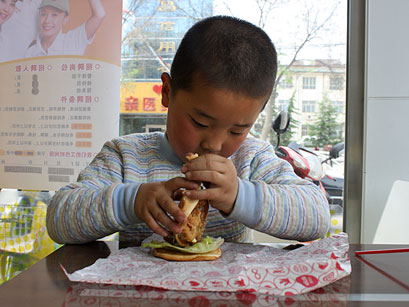 Most parents we found in Yicheng choose to have just one child. So have they all drunk the birth control Kool-Aid? Sociologist Cai Yong at the University of North Carolina puts it this way.
Cai Yong: With this propaganda ongoing for 30, 40 years, basically blaming everything bad in China to its large population, people internalize this logic.
And then, there's urbanization. In the last three decades, the government's allowed hundreds of millions of Chinese to move to cities to look for work. They no longer need lots of children to work on the farm.
Indeed, the rural hills outside town are emptying out. Only old people are left. Among them, the mom of Qin Yijiao, our friend with the Jetta. When she was pregnant with him, back in 1981, the county was still under the standard one-child policy — and she already had one.
Qin Yijiao's mother: People from the Communist Brigade said I couldn't have a second baby. But I was determined. I needed a son to work the farm.
She somehow evaded the birth police and delivered her son in the cave where they lived.
Qin Yijiao's mother:Then, they penalized me. I had to pay double the price for grain.
And they confiscated the family's precious TV and sewing machine. But here's the thing: That son conceived at great risk to be a farmer, never worked the land a day in his life.
He moved to the city, where he chose the fast life, and just one child.
Qin: Honestly, I don't even know where my mom's farm plot is.
Every afternoon, Qin picks up his son at school. Most other parents, like him, leave with just one child — even though as Yicheng residents they have special permission to have two.
For decades, this official, Che Yuelian, has zealously enforced the rules that do still apply here — like local women not being allowed a first child until they're 24 or a second until they're 30. She flips through old family planning files and beams.
Che Yuelian: One year, we had to convince five women to have sterilizations, and we did a great job. Another year, every single woman with a second child gave birth after 30, according to the rules. That was our best year.
In all, this county's population has actually grown more slowly than China's as a whole. Surprising? Not to the man behind this experiment.
Demographer Liang Zhongtang persuaded Beijing to try out two-kids-per-family, 25 years ago. It was his way of pushing back against the one-child policy.
Liang Zhongtang: Once, I looked at a woman forced onto the abortion table. Her eyes were full of fear, doubt, blame and hate. Human reproduction is an issue the government should not interfere in.
Liang comes back regularly to Yicheng. He's something of a hero locally, and a big hit with the county's female officials.
He says the data show Chinese families naturally have fewer children than they did before. So, he says, the state doesn't have to force the issue.
Liang: It shows the government could have had a looser child policy. Lower birth rates and slower population growth are inevitable results of economic development.
But his victory is a hollow one; the two-child policy never went national, as he'd hoped.
Here's China's family planning minister, Li Bin, speaking on state television.
Li Bin: Economic development is like a cake. We want to limit the consumers, the population. We must continue to maintain a stable and low birth rate.
That's just fine by parents like Qin Yijiao, the guy with the Jetta, and the son who blows bubbles into his Coke. He and his wife would love a bigger car. But a bigger family, he says, who needs it?
In Yicheng, northern China, I'm Scott Tong for Marketplace.
---
Hear and see an audio slideshow of the backstory behind Scott's story.
There's a lot happening in the world.  Through it all, Marketplace is here for you. 
You rely on Marketplace to break down the world's events and tell you how it affects you in a fact-based, approachable way. We rely on your financial support to keep making that possible. 
Your donation today powers the independent journalism that you rely on. For just $5/month, you can help sustain Marketplace so we can keep reporting on the things that matter to you.