Ry Cooder on the protest songs of today
Ry Cooder on the protest songs of today
Kai Ryssdal: Guitarist Ry Cooder has collaborated with everybody from the Rolling Stones to Randy Newman and Neil Young. It's his solo work, though, that has mostly defined his career. Albums like "Into the Purple Valley" from a long time ago and later "Chavez Ravine" were political as much as musical statements. What he thought about what was happening around us.
He's now turned his attention to our current, not so great, economic situation and how we got here. His new album, which is streaming here, is called "Pull Up Some Dust and Sit Down." It comes out tomorrow.
Ry Cooder's here today. Thanks for coming on the show.
Ry Cooder: Thank you so much, Kai.
Ryssdal: I was reading some things, obviously, before we sat down, and there's a great quote from you, and it basically says, 'These times, they call for a different kind of protest song. We're way past 'Where Have All The Flowers Gone."
Cooder: Yeah, my mother used to sing that and I think it comforted her in those days. I never liked that tune particularly; I thought it was weak. But she was the kind of person who needed a milder kind of message. These days and times we are in now, I just thought when I was working on this record, I thought I'm going to hit these stories as vividly as I can and try to get the point across in four minutes. But you can't just say, you know, 'chin up, chest up, chain and command' anymore. You know what I mean?
Ryssdal: Yeah, here's the first song on the album, cut number one, it's called "No Banker Left Behind."
Cooder: In the '30s, we had our Depression then. And so in those times, we think of it as where populist music really arose. And this was the kind of a song that people like Uncle Dave Macon with his banjo would write. Direct experience: I went down to the bank today and I couldn't get my money. So what did I do? I went home, with my banjo, my mandolin, my guitar perhaps, and wrote a song. Like Woody with his Dust Bowl Ballads.
Ryssdal: Woody Guthrie, yeah.
Cooder: Yeah. I mean, 'Fourteenth day of April, 1935, there struck the worst of dust storms' — he saw it. Here it came. An incredible experience; 1,000-foot-high dust cloud tearing your face off. Killed everything.
Ryssdal: It's interesting, you're talking about the Depression and the Dust Bowl and Woody Guthrie saw it. It's amazing to remember that three years ago, there were people lined up outside banks, waiting to get their money out because they didn't think it was going to be there in the morning.
Cooder: That's exactly the point. Here we have these same experiences that people are having and going to have — only it's worse now — more loss of investor money, home values. These kinds of songs can say these things — you can say a lot in four minutes, you know, if you get your metaphors straight.
Ryssdal: Do people think about this kind of stuff differently when they hear it in song? A four-minute song versus a four-minute news story?
Cooder: I just think that they do, and it comes into the brain in a different way. And if you ever saw Pete Seeger do this thing of his where he would stand in a room — it could be 10 people or 100 people or 1,000 people or more — and here's a song and he would present it, and within minutes, you get everybody to sing, feeling solidarity and kinship with the person sitting next to them. I've seen this so many times. This is what a song can do that I don't know if a news story can be absorbed in that way or even when I listen to these political programs say on the radio and I know and I'm listening and I'm concentrating, I'm trying to get the facts straight. But the song can bypass all that, you know.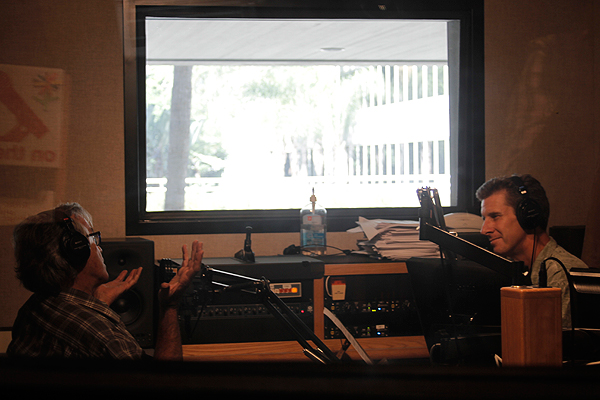 Ry Cooder (L) in the Marketplace studio with Kai Ryssdal
Ryssdal: Was there a moment in the last three years, I mean, what was the moment when you said, you know what, I've got to write this down and put this to music?
Cooder: Well "No Banker Left Behind" originated with a line from Robert Scheer's Truthdig blog. I read this pretty regularly, and when I saw this, this metric I thought "no banker left behind." So that tune came to me pretty quickly. Yeah, that was about two hours worth of work, I guess.
Ryssdal: Really?
Cooder: Well sure, because how would it go? It would go in this time frame, a kind of clog-dance beat. It would have a mandolin and a banjo, which this does. And then you have to make it visual if you can, the conductor's saying, 'come on, we're getting aboard, we've got champagne here.' Adios, we wave goodbye to the train.
Ryssdal: You know, it's so interesting: you went to the instruments and the kind of the music it is, because one thing that comes through as you listen through this disc is the number of different kinds of music you had. You've got jug-band, you've got the blues in there. Here's one that's called "John Lee Hooker for President," which I really like.
So that's just straight out good old time blues, I mean I love that one.
Cooder: Well to me, these musical styles and sounds are narratives as well. I mean everything about them — if it's an accordion, horns, the banda horns for the immigrant tunes — they all are part of the story. And you can see it then, you can imagine the Arizona border that's hot, 120 degrees in the shade, dusty. The banda horns are coming from some truck over there.
Ryssdal: This is "El Carrido de Jesse James."
Here's the thing, though, that hit me when I was listening to this and thinking about talking to you: the point of protest songs, the reason you write them, is to change things, right?
Cooder: Hopefully, yeah.
Ryssdal: Well, do you really think you're going to change things?
Cooder: What I like in the idea of these songs is if you follow the logic of each tune — this happened and this happened and you can see that at the end, this is the result, you just didn't see it this way before, you never thought of Wall Street in terms of Jesse James and bilingual heft. The little song has another idea for you, another perspective for you, you see? So that's my hope. But I do this for myself, first of all, because I like to do it, I feel better, I'm not so frustrated and I can write these things down. What will the public think? I have no idea. They used to have radio for these things, and you used to have record stores, for heaven's sake. But I'm 64 this year, so I can't worry about that.
Ryssdal: The latest record from Ry Cooder is called "Pull Up Some Dust and Sit Down." Thanks a lot.
Cooder: Thank you Kai.
There's a lot happening in the world.  Through it all, Marketplace is here for you. 
You rely on Marketplace to break down the world's events and tell you how it affects you in a fact-based, approachable way. We rely on your financial support to keep making that possible. 
Your donation today powers the independent journalism that you rely on. For just $5/month, you can help sustain Marketplace so we can keep reporting on the things that matter to you.  
Latest Episodes From Our Shows