The lux life goes underground
The lux life goes underground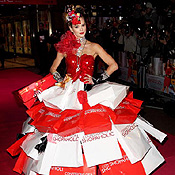 This recession has made terms like "recessionista" popular, but the way those pricey iPads and iPhones flew out the door, it's hard to say that people are truly embracing thrifty living.
Jeff Gordinier of Details magazine addresses this in his article "The Age of Underground Decadence.":
While the conventional wisdom tells us that rich and powerful people reeled in their profligate spending habits around the same time that Bernie Madoff became a synonym for Satan, the reality is that a lot of American elites simply went into speakeasy mode: They kept living it up, but they carefully concealed that fact from the outside world. "The consumption is still taking place," Tesauro says. "The conspicuousness is what's getting played with."
The rich are finding ways to keep their big money ways, but without being ostentatious. For example:
They want to entertain their clients, but they don't want to make a splash in the headlines," he says. To avoid that, a contractor might turn the dirty work over to Tesauro, pay him a hosting fee of $10,000 per event, then pass along a credit card and encourage him to buy to his heart's content. One client, Tesauro says, "gave me his black American Express to go in the wine shop, and instead of him running into the neighbor who's dealing with foreclosure, I'm loading up the car. He doesn't have to deal with walking out of the shop with teetering cases of first-growths and having someone pointing the finger and going, 'You aristocratic so-and-so . . . '"
For those of us mortals who can't fork over $10,000 to have your own hush-hush get-together (and that's just to make it hush-hush), check out this interview Marketplace did with personal finance columnist Nancy Trejos about her book "Hot (broke) Messes: How to Have Your Latte and Drink It Too," where she details her shopping problems and how she's digging out of it.
There's a lot happening in the world.  Through it all, Marketplace is here for you. 
You rely on Marketplace to break down the world's events and tell you how it affects you in a fact-based, approachable way. We rely on your financial support to keep making that possible. 
Your donation today powers the independent journalism that you rely on. For just $5/month, you can help sustain Marketplace so we can keep reporting on the things that matter to you.  
Latest Episodes From Our Shows