How the undocumented immigrant workforce has changed since 2009
How the undocumented immigrant workforce has changed since 2009
The number of working undocumented immigrants in the U.S. remains stable, according to a report from the Pew Research Center released Thursday.
Pew reviewed the workforce across the country and determined that while some states had an increase in its undocumented immigrants workforce, more states had a decrease, leaving the total population "virtually unchanged" since 2009.  This follows a large influx in the 1990s and early 2000s.
Immigration is a major talking point this election, especially when it comes to the economy and the American workforce. As Pew and others have pointed out, this population of 8 million people accounts for roughly 5 percent of the U.S.'s workforce. A couple more findings (and charts) from Pew:
Six states had an increase in population,while seven with decreases.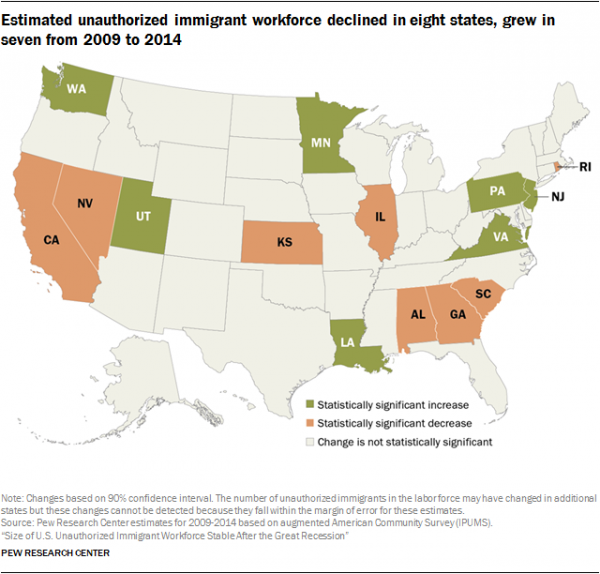 Pew also broke down the industries and occupations where undocumented immigrants account for a large part of the workforce.
See the full report here.
Correction: An earlier version of this story incorrectly identified the time period documented by Pew. The text has been corrected.
There's a lot happening in the world.  Through it all, Marketplace is here for you. 
You rely on Marketplace to break down the world's events and tell you how it affects you in a fact-based, approachable way. We rely on your financial support to keep making that possible. 
Your donation today powers the independent journalism that you rely on. For just $5/month, you can help sustain Marketplace so we can keep reporting on the things that matter to you.  
Latest Episodes From Our Shows