U.S. oil imports are down, narrowing the trade deficit
U.S. oil imports are down, narrowing the trade deficit
There's news out today that the U.S. is importing less crude oil from foreign countries – the lowest amount in a decade. That's often bad news for the economy, but measured alongside oil exports, it looks like a good number. It means the trade gap is narrowing. The U.S. is spending less money on foreign crude oil, and other countries are actually buying refined oil from here.
But the funny thing is, other countries are not buying U.S. oil from U.S. refineries.
"We are basically importing crude oil from other countries," says Amy Myers Jaffe, an energy expert at the University of California, Davis. "Then we are bringing it to our country, refining it, using what we need, and of the refinery output that we do not need, we're exporting that for a profit."
A Gulf Coast refinery might spin Venezuelan crude into diesel fuel, and send it to Mexico, for example. The refineries make money on this, but it doesn't lower gas prices here. So why send refined fuel away?
"Because we have no pipelines or not enough pipelines from East Coast to the Gulf Coast, to move that extra product, " says John Hofmeister, a former oil executive now running the nonprofit Citizens for Affordable Energy. He says U.S. laws and infrastructure don't allow fuel to flow freely around the country.
---
OIL THROUGH THE AGES: view the interactive map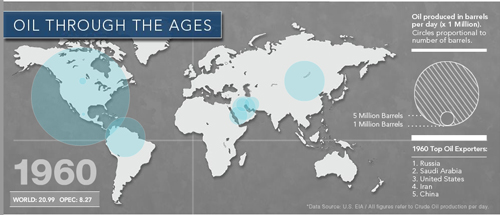 ---
Increased U.S. domestic oil production, from the North Dakota shale, for example, helps improve energy independence – but not that much.
"It comes nowhere near eradicating the continued import of crude oil to just feed our gas tanks every day," Hofmeister says.
When the economy is strong, he says, the U.S. needs about 20 million barrels of oil a day. Current U.S. oil production covers about one-third of that.
There's a lot happening in the world.  Through it all, Marketplace is here for you. 
You rely on Marketplace to break down the world's events and tell you how it affects you in a fact-based, approachable way. We rely on your financial support to keep making that possible. 
Your donation today powers the independent journalism that you rely on. For just $5/month, you can help sustain Marketplace so we can keep reporting on the things that matter to you.  
Latest Episodes From Our Shows