Oyler School gets a makeover
Oyler School gets a makeover
Let's start with the brown, grimy carpet on the third floor. You could smell it as you walked up the stairs. "Didn't matter how many times we cleaned it," says Craig Hockenberry. "It stunk."
Hockenberry is principal of Oyler School in Cincinnati's Lower Price Hill. It was built in 1930, a palace of brick and terra cotta in its day. But for years it had been showing its age: dark and dreary hallways, peeling paint, flickering fluorescent lights. And the bathrooms?
"I mean I wouldn't even go to the bathroom in it," says Hockenberry. "And the water fountains? I wouldn't even take a sip out of them. They were that bad. I mean, it was awful."
In the fall and late spring, it was also hot. Nancy Wyenandt has taught at Oyler for 27 years. She says there were days the temperature reached 104 degrees in the third floor classrooms.
"It was very hard to — even for the kids to stay awake," she says. "We'd have kids leave the classroom to throw up."
It would be tough for anyone to learn in that kind of environment. And these kids already have it tougher than most. They walk to school past boarded up buildings and drug deals, and often go home at night to hunger and violence. "Their lives, in a lot of cases, are really a web of a tangled mess sometimes," Hockenberry says. "When they come to school, they're so easily distracted."
Those distractions — the noise, the heat, the grime — send a message. "A poor building imparts a poor attitude, and it has an effect on learning," says David Thompson, chair of educational leadership at Kansas State University.
Decades of research have made a pretty strong case that lighting, noise, air quality and basic aesthetics all affect how well students learn. "It doesn't take a Cadillac in order to do the job," Thompson says. "It takes a school building where children feel valued, where teachers feel valued, and where the environment and the surroundings don't get in the way."
The new Oyler, it's fair to say, is a Cadillac. After two years and a $21 million makeover, the public school, which goes from preschool to 12th grade, reopened in its original building in late August. The walls are creamy white and pale green, the floors spotless linoleum. Large windows look out to a colorful playground with a fountain and freshly paved basketball court.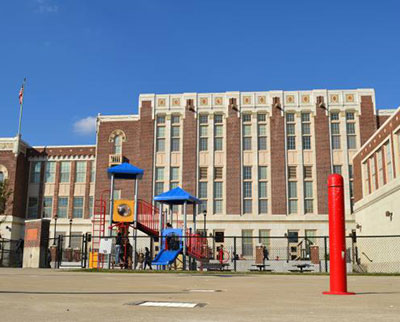 Jami Luggen says she can see the difference on the children's faces. As the school's resource coordinator, she helps connect students with services like counseling and hands out packages of food for weekends. "Just knowing that they're going to have all the advantages that are offered in this school building, a beautiful building, I mean, how can you not come in here with a positive attitude?" she says.
Senior Crystal Kornegay has been at Oyler since second grade. "Normally people leave Oyler because they say it's in Lower Price Hill, a bad neighborhood," she says. "But now since it's rebuilt everybody wants to attend this school now."
Do they ever. Enrollment has jumped so much Oyler's had to bring in several new teachers. It wasn't hard to recruit them. The school doesn't just look better. The science department has real lab equipment and every classroom is wired with internet access and a built-in projector*. "It's just unbelievable for me," Wyenandt says. "I just never thought in my career, which is now 32 years, that I would be in a building so impressive."
Kids are more engaged and have a better attitude, she says. At the old school students wrote on the walls and trashed the restrooms. "But you know people aren't writing on the walls, the kids are enjoying the fresh air," she says. "They're more motivated."
And those 104-degree classrooms? The new Oyler has central air, so the school can shut the windows to what goes on outside.
---
*CORRECTION: An earlier version of this story incorrectly described the technology in the renovated classrooms. The text has been corrected.
There's a lot happening in the world.  Through it all, Marketplace is here for you. 
You rely on Marketplace to break down the world's events and tell you how it affects you in a fact-based, approachable way. We rely on your financial support to keep making that possible. 
Your donation today powers the independent journalism that you rely on. For just $5/month, you can help sustain Marketplace so we can keep reporting on the things that matter to you.  
Latest Episodes From Our Shows