For sale: Beautiful, long black hair
For sale: Beautiful, long black hair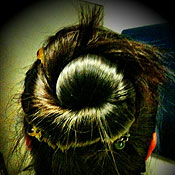 On this weekend's Marketplace Money show, reporter Adriene Hill shared with Tess Vigeland all the different parts of yourself that you can sell for money — within the limits of the law, of course.
One of those things you can sell is your hair. Now my hair — as you see on the right in a bun — is everything people wish their hair was: Dark, shiny and flowy. It's never seen hair dye and it's been years since a curling iron touched it. And even after a trim (no split ends!), it still hangs low on my back. Being a student working two jobs, I'm always looking for easy ways to make a bit more money. I talked to Adriene about why I'm considering chopping off the long hair I've had for more than 20 years and my brief foray into the online hair market. Take a listen:
There's a lot happening in the world.  Through it all, Marketplace is here for you. 
You rely on Marketplace to break down the world's events and tell you how it affects you in a fact-based, approachable way. We rely on your financial support to keep making that possible. 
Your donation today powers the independent journalism that you rely on. For just $5/month, you can help sustain Marketplace so we can keep reporting on the things that matter to you.  
Latest Episodes From Our Shows