Shrimpers try to catch customers through online market
Shrimpers try to catch customers through online market
Steve Chiotakis: British oil giant BP has filed suit against its oil rig partners Transocean and Halliburton. Saying their negligence contributed to last year's Gulf of Mexico oil disaster.
More than a year later, shrimping season is underway this week in Louisiana. The spill severely hurt sales of shrimp. So a new online marketing and sales effort is working to help fisherman lure new customers.
Marketplace's Eve Troeh reports.
---
Eve Troeh: Multiple hurricanes have hit the port of Delcambre, La. So has competition from cheap, imported seafood. And the BP oil spill hurt its image. Only a dozen or so shrimp boats hang on. Terral Melancon has one.
Terral Melancon: It's been in the family about 45 years. It's been handed down from my father.
He stands on the deck, deeply tanned in jeans and a T-shirt, and tell-tale shrimper footwear: tall, white rubber boots.
Melancon: Yes, ma'am, yes — some Cajun Reeboks!
Next to him is Thomas Hymel, who does outreach with fisherman for Louisiana State University.
Thomas Hymel: So this is an old-time cypress hull, huh?
Melancon: This is an old cypress hull, this is the oldest boat in port of Delcambre.
Hymel collects details like this for a website, portofdelcambre.com. He writes profiles of local fisherman, and updates on what they catch. Hymel says they won't go on Facebook or Twitter.
Hymel: But now look, they will call you. This morning, I got a call from Jimmy Dupre on the Tee Turbo. 'Hey Tom! I got shrimp!'
So, Hymel immediately posts what kind of shrimp the boat caught, and when it'll be in port. Customers get an email or text message, then call the fisherman, Jimmy Dupre.
Jimmy Dupre: Hello.
While he's still on the boat.
Dupre: Yeah, we're out in the bay right now. Me, my wife and grandson. They're about $3.25 a pound right now for the big ones, and most of my customers want big shrimp.
Shrimpers make two to three times more money this way. The port is opening the website to other seafood.
Economist Alex Miller works with fisherman around the gulf. He says there's a feel-good factor, too.
Alex Miller: Consumers really want to know where their seafood came from, and they want to know the story.
He's helping customers all around the country meet fishermen virtually. He plans to put tags on Gulf seafood that customers can scan with a smartphone, or look up online. They'll see who caught their fish, where, and when it was tested for toxins.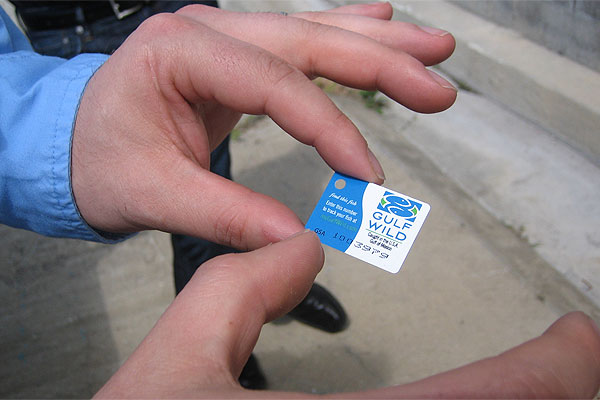 Miller: And know that it passed with flying colors, and hey, this is a safe product to eat.
He says right now there's no such thing as too much information about Gulf seafood.
I'm Eve Troeh for Marketplace.
Latest Episodes From Our Shows