Marketplace presents: Morgan Spurlock on product placement advertising
Marketplace presents: Morgan Spurlock on product placement advertising
Kai Ryssdal: Morgan Spurlock's new movie opens tomorrow. This one doesn't involve him eating McDonald's three meals a day for a month like his last one — "Super Size Me" — did. But he definitely takes on corporate America again. And he takes on all of it, too. The film's called, and this is the official title, "POM Wonderful Presents: The Greatest Movie Ever Sold." Good to have you with us.
Morgan Spurlock: Thank you.
Ryssdal: This is kind of a tough one to wrap your head around this film, so do me a favor and everybody else out there. Give us the elevator pitch.
Spurlock: "POM Wonderful Presents: The Greatest Movie Ever Sold" is a film all about the world of product placement, marketing and advertising. And the whole film is actually paid for and made possible by product placement marketing and advertising.
Ryssdal: There are so many layers of chicken-and-egg and meta-meanings and everything else in this film that I almost don't know where to start. How about we start here: Why?
Spurlock: I think that we live in a world today where you can't leave your house, you can't do anything without somebody trying to market something to you, without me trying to sell you something. And that continues to creep into our entertainment more and more today. So I thought this was a good film at the right time.
Ryssdal: It can't be, though, that you think ads are bad. I mean…
Spurlock: I think that ads make things happen. I think that ultimately television, as a medium, was created as a way to get you to buy things, as was radio. These whole things came about to buy this stuff. And the people who wrote the TV shows in the beginning, the people who wrote radio shows in the beginning, were copywriters from advertising agencies.
Ryssdal: But it's transparency, right? You just, you want people to know.
Spurlock: It's not like I want circles and arrows and things going — ping, ping, ping, look a soda 'cause I think that would be even worse. But what I think the film does a great job of doing is bringing an incredible level of awareness as to how this business functions and operates — not only on televion and film, but outside in advertising at large.
Ryssdal: This is radio so it's a little tough to give people the pure visual impression of you, but you have on a suit — which is an otherwise fine, gray suit.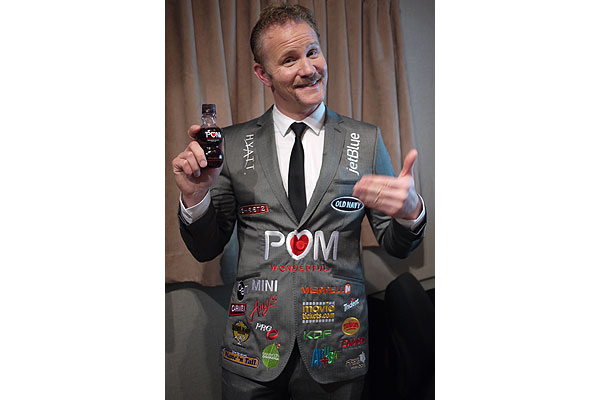 Spurlock: It's a Ted Baker, greatest suit you'll ever wear.
Ryssdal: But JetBlue is prominently displayed on your left chest, and then there's Old Navy. I mean, you're a walking, talking brand.
Spurlock: I am wearing my NASCAR prom suit. Like if Jeff Gordon was going to the prom, this is what he'd be wearing.
Ryssdal: The cynic in me says, man, that's a great piece of marketing.
Spurlock: I completely agree. I think it's a great piece of marketing that's a great conversation piece for the film as we start to talk about what is for sale. Is there a price you can put on everything?
Ryssdal: How hard was it to get these companies on board? You, I guess, were doing a lot of cold calling.
Spurlock: Hard. A lot of cold calling. It took months. See, when you have an idea like this, who are you going to call first? Well first, we're going to call the advertising agencies. These are the people with the keys to the kingdom. They know all the brands, they have all the ties, all the links in the chain. And so I called them first. And not one advertising agency — with the exception of Kirshenbaum Bond in New York — would have anything to do with this movie and that's only because I'd known this guys for probably six, seven years.
Ryssdal: Let me get down to some of the details of the machinations of this whole thing. So, just because its name is above the title, let's talk about POM Wonderful.
Spurlock: It is the greatest anti-oxidant you'll ever drink.
Ryssdal: Yes, of course it is. Now it's interesting you mention that because you are, in effect, a spokesman for them through this film, right?
Spurlock: In essence, yes. I am tied to this brand.
Ryssdal: And did they get natural fruit drink brand exclusivity with this?
Spurlock: They got beverage exclusivity.
Ryssdal: Beverage. Ooh, so they went the whole smack.
Spurlock: So they got all beverage. So there's no coffee sponsors, no water sponsors. There's no other juice sponsors, no soda sponsors, no colas.
Ryssdal: Are the companies that supporting you in this film getting their money's worth?
Spurlock: Yes. I will honestly say yes. One of the benchmarks — cause POM, with the above the house sponsorship, gave us a million dollars, of which they've only given us $600,000. The other $400,000 is tied to certain achievements.
Ryssdal: Oh really?
Spurlock: Yeah. And one of those achievements is media impressions. Like, we have to get 600 million media impressions to get one more step of the money.
Ryssdal: I'm glad I could help you out.
Spurlock: Well, thank you. I appreciate it. The film coming out of the Sundance Film Festival — just the Sundance Film Festival for that two weeks — garnered 900 million media impressions. So now that benchmark's done. So now there's the other things that we still have to accomplish — like $10 million at the box office, 250 screens worldwide, 500,000 downloads in DVDs to get the rest of the money.
Ryssdal: Did you call McDonald's?
Spurlock: Of course I did. The idea was to make a documentary blockbuster. We wanted to make a "docbuster." So I called McDonald's. Didn't call back, big surprise. I called them like four or five times. It's like I'm leaving a message…
Ryssdal: "Hi, Morgan again."
Spurlock: I'm like, "Hey, it's Morgan Spurlock again. You may remember me from such films as… But this is a different move, completely different — kinder, gentler Morgan Spurlock calling."
Ryssdal: The latest movie from Morgan Spurlock is called "POM Wonderful Presents: The Greatest Movie Ever Sold." Thanks a lot for coming in.
Spurlock: Thank you.
Latest Episodes From Our Shows