Swiss freeze potential Mubarak assets
Swiss freeze potential Mubarak assets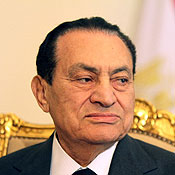 A spokesman from the Swiss foreign ministry confirmed the ministry has frozen assets that may belong to now-former Egyptian President Hosni Mubarak, according to Reuters. Ministry spokesperson Lars Knuchel declined to comment on the value of the frozen assets. The move is Switzerland's latest effort to improve its image as a haven for money of questionable provenance.
The Swiss ministry hedged its findings, referring only to "possible" assets belonging to Mubarak. The value and location of the former leader's fortunes are unclear. Professor Christopher Davidson of Durhman University in England told Kai Ryssdal in a recent interview that any quoted figures on Mubarak's wealth are purely speculative. Davidson offered his thoughts on how Mubarak made his fortune and where it's sitting:
Davidson: Well I think this is — if you excuse the expression — a pyramid of wealth that's been built up over the years. Of course, Mubarak began his time and influence as a military man before he even became president, of course. Back then it seems a lot of deals — both with the West and the Soviet Union — kickbacks on many of these contracts that were signed, kickbacks all the way up to the top. Much of that wealth seems to have been invested overseas. A traditional way to store this wealth, for many Arab elites, is to put it in mature Western real estate, in particular in London and the United States. And the indications are that Mubarak has done exactly that. Alongside all of that real estate investment, there will be the good old-numbered bank accounts, most likely in Switzerland, too.

Ryssdal: Has he turned this into family wealth for his spouse and his children?

Davidson: Well that seems to be part of the tension at the moment in Egypt. That it's not so much Mubarak himself, who has been fairly discreet over the years, and after all he is a military man by background. It rather seems to perhaps be his wife and his sons who have been a little bit more ostentatious with the wealth. And the sons, in particular, have built up these business empires.
David Brancaccio of Economy 4.0 reported on the global effort to curb deposed dictators from running off with ill-gotten gains. While the Swiss may have frozen alleged Mubarak assets, Brancaccio points out that it's not clear if Mubarak's business dealings were illegal:
Egyptian law typically requires foreign ventures to give a local a piece of the action. That local could legally be a member of the Mubarak family. But these are some of the rules that may need to change if financial integrity and political stability are to come to the region.
Check out Marketplace's coverage of Egypt and the impact the protests are having in the rest Middle East.
Photo of former Egyptian President Hosni Mubarak by Khaled Desouki/AFP/Getty Images.
There's a lot happening in the world.  Through it all, Marketplace is here for you. 
You rely on Marketplace to break down the world's events and tell you how it affects you in a fact-based, approachable way. We rely on your financial support to keep making that possible. 
Your donation today powers the independent journalism that you rely on. For just $5/month, you can help sustain Marketplace so we can keep reporting on the things that matter to you.  
Latest Episodes From Our Shows