EXTENDED PLAYLIST: Julie Aiken
EXTENDED PLAYLIST: Julie Aiken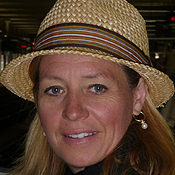 Julie Aiken shared her favorite road song, "The Longest Road" by Morgan Page. Although she may not be going very far in terms of physical distance to reach clients for her pharmaceuticals sales job, Los Angeles traffic sometimes makes a trip feel endless.
Check out what Julie listens to while she falls into a "traffic trance" after the jump.
News and information you need, from a source you trust.
In a world where it's easier to find disinformation than real information, trustworthy journalism is critical to our democracy and our everyday lives. And you rely on Marketplace to be that objective, credible source, each and every day.
This vital work isn't possible without you. Marketplace is sustained by our community of Investors—listeners, readers, and donors like you who believe that a free press is essential – and worth supporting.
Stand up for independent news—become a Marketplace Investor today with a donation in any amount.