EXTENDED PLAYLIST: Julie Aiken
EXTENDED PLAYLIST: Julie Aiken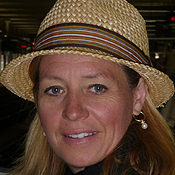 Julie Aiken shared her favorite road song, "The Longest Road" by Morgan Page. Although she may not be going very far in terms of physical distance to reach clients for her pharmaceuticals sales job, Los Angeles traffic sometimes makes a trip feel endless.
Check out what Julie listens to while she falls into a "traffic trance" after the jump.
There's a lot happening in the world.  Through it all, Marketplace is here for you. 
You rely on Marketplace to break down the world's events and tell you how it affects you in a fact-based, approachable way. We rely on your financial support to keep making that possible. 
Your donation today powers the independent journalism that you rely on. For just $5/month, you can help sustain Marketplace so we can keep reporting on the things that matter to you.  
Latest Episodes From Our Shows