How Meg could've spent her $140 million
How Meg could've spent her $140 million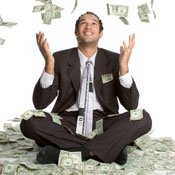 $140 million can't buy you the California governorship, but it can buy a lot of other — perhaps more satisfying — things. Lance Williams of California Watch blogged about what Meg Whitman could've bought instead of lots of campaign ads*. Among the items on the list:
Jackson Pollock's "No. 5, 1948," which sold for $140 million back in 2006, making it the most expensive painting in the world.

An F-22 Lockheed Martin Raptor jet fighter

My personal pick: The 3,000-acre Little Jennie Ranch in Jackson Wyo., including house, barns and gorgeous views of the Gros Ventre range (list price: $69.5 million) AND 1016 Madison Ave., a seven-story, 12,000-square-foot townhouse on Manhattan's Upper East Side ($72 million).
The combined spending of the other 15 candidates on this November's ballot came to just over $52 million. They could've pooled all their money, pitched in $17 million extra and had a fabulous timeshare in Wyoming.
Williams also put together a luxurious grab bag that includes a gigantic yacht ($100 milliion), a bling-encrusted TV ($2.3 million) and a Bugatti Veyron ($1.7 million).
*By the way, here's what Whitman did get for $140 million.
There's a lot happening in the world.  Through it all, Marketplace is here for you. 
You rely on Marketplace to break down the world's events and tell you how it affects you in a fact-based, approachable way. We rely on your financial support to keep making that possible. 
Your donation today powers the independent journalism that you rely on. For just $5/month, you can help sustain Marketplace so we can keep reporting on the things that matter to you.  
Latest Episodes From Our Shows