What is that around MLB players' necks?
What is that around MLB players' necks?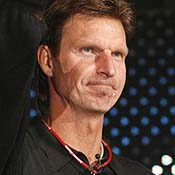 This final note today, picking up on my earlier observation about the World Series. Am I the only guy who's been wondering what with those enormous necklaces some of the players have been wearing. I mean, they're practically horse collars they're so big. Turns out, should you be so inclined, you can buy 'em online. Just do a search on titanium necklace by a company called Phiten. They're made — or so it says — of aqua titanium, whatever that is. Helps regulate the body's natural electric currents through cell ionization. Or something. Whatever.
Giants in six. You heard it here first.
Photo credit: Arizona Diamondbacks pitcher Randy Johnson at a press conference in Tokyo. An agreement has been reach for Phiten to produce MLB authorized official health care goods to be used by 30 clubs across the US.
As a nonprofit news organization, our future depends on listeners like you who believe in the power of public service journalism.
Your investment in Marketplace helps us remain paywall-free and ensures everyone has access to trustworthy, unbiased news and information, regardless of their ability to pay.
Donate today — in any amount — to become a Marketplace Investor. Now more than ever, your commitment makes a difference.