What is that around MLB players' necks?
What is that around MLB players' necks?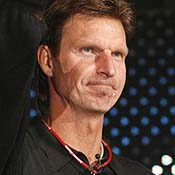 This final note today, picking up on my earlier observation about the World Series. Am I the only guy who's been wondering what with those enormous necklaces some of the players have been wearing. I mean, they're practically horse collars they're so big. Turns out, should you be so inclined, you can buy 'em online. Just do a search on titanium necklace by a company called Phiten. They're made — or so it says — of aqua titanium, whatever that is. Helps regulate the body's natural electric currents through cell ionization. Or something. Whatever.
Giants in six. You heard it here first.
Photo credit: Arizona Diamondbacks pitcher Randy Johnson at a press conference in Tokyo. An agreement has been reach for Phiten to produce MLB authorized official health care goods to be used by 30 clubs across the US.
Latest Episodes From Our Shows