I'm at a bar right now; I'll definitely be sick tomorrow
I'm at a bar right now; I'll definitely be sick tomorrow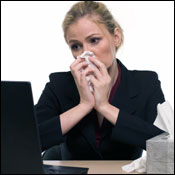 Perhaps the employees who used these excuses were really feeling uneasy about their job security, so they used more — shall we say — creative excuses than "I'm sick" to get that day off. Here is CareerBuilder's annual list of most unusual excuses for calling in sick:
Employee said a chicken attacked his mom.
Employee's finger was stuck in a bowling ball.
Employee had a hair transplant gone bad.
Employee fell asleep as his desk while working and hit his head, causing a neck injury.
Employee said a cow broke into her house and she had to wait for the insurance man.
Employee's girlfriend threw a Sit n Spin through his living room window.
Employee's foot was caught in the garbage disposal.
Employee called in sick from a bar at 5:00 p.m. the night before.
Employee said he wasn't feeling too clever that day.
Employee had to mow the lawn to avoid a lawsuit from the home owner's association
Employee called in the day after Thanksgiving because she burned her mouth on a pumpkin pie.
Employee was in a boat on Lake Erie and ran out of gas and the coast guard towed him to the Canadian side.
CareerBuilder's vice president of human resources said that ultimately, it's best just to be honest with your boss if you just need to take a break.
[Check out Marketplace's coverage of all things jobs here.]
There's a lot happening in the world.  Through it all, Marketplace is here for you. 
You rely on Marketplace to break down the world's events and tell you how it affects you in a fact-based, approachable way. We rely on your financial support to keep making that possible. 
Your donation today powers the independent journalism that you rely on. For just $5/month, you can help sustain Marketplace so we can keep reporting on the things that matter to you.  
Latest Episodes From Our Shows