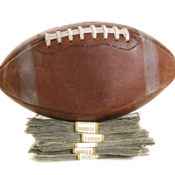 Actually, in the case of former NFL agent Josh Luchs, his catchphrase was more like "Hollywood's calling. You gonna answer the call?" In an honest piece in Sports Illustrated, Luchs, with SI senior reporter George Dohrmann, details the money and perks he threw at football players to get them to pick him as their agent — all in violation of NCAA rules. But that's par for the course in the competitive world of football and sports agents, according to the article.
If you were a good player at UCLA, I made a run at you. I tried to get can't-miss NFL left tackle prospect Jonathan Ogden as a client, but he wouldn't take my money. He did, however, go with me to a Janet Jackson concert. My girlfriend got two tickets, and I told her, "Sorry, I need those tickets for J.O. He's a big Janet Jackson fan." Instead of going to the concert with my girlfriend, I went with a 6'9″ guy who weighed more than 300 pounds and who screamed "Janet!" the whole night like a teenage girl.
And Luchs says that coaches and players and their families were very aware of how the game is played.
When Alabama coach Nick Saban and others rail against the agent business, they don't mention that most of the time the player or someone from his family approaches us. Guys see that one of their teammates has some cash, ask him about it, and suddenly my phone rings. It was rare to find a player who wouldn't take the money. I put $10,000 cash in front of Kansas's Dana Stubblefield, and he wouldn't take it. I tried to pay UCLA's J.J. Stokes and USC's Keyshawn Johnson, and they said, "No." But for every kid who didn't take the money, there were dozens who called me and asked to get paid.
It's no surprise that money and extravagant gifts — Reggie Bush, anyone? — get mixed up in the sports business, but the article is still a fascinating look into how the system works and how everyone plays their part.
As a nonprofit news organization, our future depends on listeners like you who believe in the power of public service journalism.
Your investment in Marketplace helps us remain paywall-free and ensures everyone has access to trustworthy, unbiased news and information, regardless of their ability to pay.
Donate today — in any amount — to become a Marketplace Investor. Now more than ever, your commitment makes a difference.