Open Now: Glittering caves of gold
Open Now: Glittering caves of gold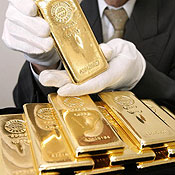 This final note today: An observation of what happens when gold hits new highs. $1,313 an ounce today. The thing about this rally is that people are buying actual gold instead futures contracts or mining company stocks. And when you buy real gold, you need a place to put it, which means gold vaults are now big business.
JP Morgan Chase has opened up a vault it closed 20 years ago. It's got hundreds of tons of gold in storage. There's a limit, though. Apparently, a vault built in 1902 for John Pierpont Morgan — as in JP Morgan — can't be used anymore. It's been turned into a restaurant.
As a nonprofit news organization, our future depends on listeners like you who believe in the power of public service journalism.
Your investment in Marketplace helps us remain paywall-free and ensures everyone has access to trustworthy, unbiased news and information, regardless of their ability to pay.
Donate today — in any amount — to become a Marketplace Investor. Now more than ever, your commitment makes a difference.