Open Now: Glittering caves of gold
Open Now: Glittering caves of gold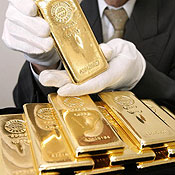 This final note today: An observation of what happens when gold hits new highs. $1,313 an ounce today. The thing about this rally is that people are buying actual gold instead futures contracts or mining company stocks. And when you buy real gold, you need a place to put it, which means gold vaults are now big business.
JP Morgan Chase has opened up a vault it closed 20 years ago. It's got hundreds of tons of gold in storage. There's a limit, though. Apparently, a vault built in 1902 for John Pierpont Morgan — as in JP Morgan — can't be used anymore. It's been turned into a restaurant.
There's a lot happening in the world.  Through it all, Marketplace is here for you. 
You rely on Marketplace to break down the world's events and tell you how it affects you in a fact-based, approachable way. We rely on your financial support to keep making that possible. 
Your donation today powers the independent journalism that you rely on. For just $5/month, you can help sustain Marketplace so we can keep reporting on the things that matter to you.  
Latest Episodes From Our Shows