An itemized list of what your taxes pay for
An itemized list of what your taxes pay for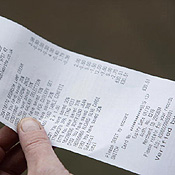 This final note today, toward a more consumer friendly Internal Revenue Service, perhaps The left-leaning think tank Third Way has a new policy paper out. It says we ought to get a receipt from the government when we pay our taxes.
You go to the store, you get an itemized receipt for eggs and toilet paper and whatnot , right? Third Way has mocked up the receipt for a person making about $35,000 a year. Among the specifics: $229 to pay for the wars in Iraq and Afghanistan, $1,040 for Social Security.
There's a lot happening in the world.  Through it all, Marketplace is here for you. 
You rely on Marketplace to break down the world's events and tell you how it affects you in a fact-based, approachable way. We rely on your financial support to keep making that possible. 
Your donation today powers the independent journalism that you rely on. For just $5/month, you can help sustain Marketplace so we can keep reporting on the things that matter to you.