A decent life, according to the German government
A decent life, according to the German government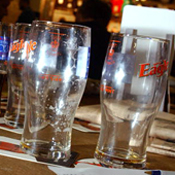 As Oktoberfest approaches, the German labor department, announced that beer — a fixture of German society — is not necessary for living. The department eliminated 7.52 euros a month for alcohol and 11.58 euros for tobacco when calculating the payment amount for monthly welfare checks, according to this Slate article. The department did raise standard welfare payments — called Hartz IV — by five euros to 364 euros.
[If German welfare recipients are feeling thirsty, the department added 2.99 euros per month for mineral water and nonalcoholic drinks.]
Also out: houseplants, non-motor-powered garden equipment, and orthopedic shoes. Newly added: Internet access (although factored in at just 2.28 euros a month), jewelry and watches (0.59 euros), and extracurricular lessons and hobby classes (1.61 euros). The government arrived at the numbers by looking at the average expenditures of the lowest-earning 20 percent of the German population. (German speakers can see the full breakdown here.)
It's a little unclear how welfare recipients will be able to buy items and services like Internet access at such meager amounts, and even if they will spend at all for them. But if anything, what the labor department deleted and added to the welfare check calculation gives an interesting peek into the German government and what it thinks are necessities (or not ) for living.
Some new provisions, like the inclusion of Internet access, reflect an effort to tie cost-of-living calculations to the ever-changing social landscape. "There are good arguments that nowadays Internet access is a basic right," Birgit Homburger, the parliamentary leader of the co-governing Free Democrats, told broadcasting network Deutsche Welle.
There's a lot happening in the world.  Through it all, Marketplace is here for you. 
You rely on Marketplace to break down the world's events and tell you how it affects you in a fact-based, approachable way. We rely on your financial support to keep making that possible. 
Your donation today powers the independent journalism that you rely on. For just $5/month, you can help sustain Marketplace so we can keep reporting on the things that matter to you.