The Yoda fight scene, in 3-D
The Yoda fight scene, in 3-D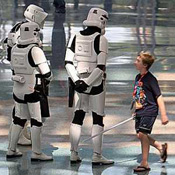 This final note today.
Sound of light sabers
A lof of you can probably place that sound. Light sabers from Star Wars. Soon, you'll be able to catch 'em in 3-D. George Lucas said today that he will give the whole franchise — all six films — a three dimensional makeover. The first retooled version, "The Phantom Menace," comes out in 2012. One a year after that.
So now we have the original trilogy, the prequels, animated television series, animated films, now the 3-D versions. We thought it might smack of a tiny bit of overkill.
But a quick trip to Mann's Chinese Theater in Hollywood showed how wrong we were.
Man 1: I think it'd be pretty cool.
Woman 1: I think it's going to be great.
Woman 2: I will definitely see them in 3-D, everything will really come to life and get you involved.
We did an internal Marketplace survey of what movies folks would go see in 3-D: "The Matrix," "Willy Wonka and the Chocolate Factory" — the original, forget the Johnny Depp version. Also, "The Never Ending Story," "Mary Poppins," "Inception" with Leonardo DiCaprio, and this one that I don't really understand, the period piece, "Remains of the Day."