The Yoda fight scene, in 3-D
The Yoda fight scene, in 3-D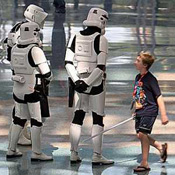 This final note today.
Sound of light sabers
A lof of you can probably place that sound. Light sabers from Star Wars. Soon, you'll be able to catch 'em in 3-D. George Lucas said today that he will give the whole franchise — all six films — a three dimensional makeover. The first retooled version, "The Phantom Menace," comes out in 2012. One a year after that.
So now we have the original trilogy, the prequels, animated television series, animated films, now the 3-D versions. We thought it might smack of a tiny bit of overkill.
But a quick trip to Mann's Chinese Theater in Hollywood showed how wrong we were.
Man 1: I think it'd be pretty cool.
Woman 1: I think it's going to be great.
Woman 2: I will definitely see them in 3-D, everything will really come to life and get you involved.
We did an internal Marketplace survey of what movies folks would go see in 3-D: "The Matrix," "Willy Wonka and the Chocolate Factory" — the original, forget the Johnny Depp version. Also, "The Never Ending Story," "Mary Poppins," "Inception" with Leonardo DiCaprio, and this one that I don't really understand, the period piece, "Remains of the Day."
There's a lot happening in the world.  Through it all, Marketplace is here for you. 
You rely on Marketplace to break down the world's events and tell you how it affects you in a fact-based, approachable way. We rely on your financial support to keep making that possible. 
Your donation today powers the independent journalism that you rely on. For just $5/month, you can help sustain Marketplace so we can keep reporting on the things that matter to you.  
Latest Episodes From Our Shows