Pencil pushers: The oldest corporate rivalry?
Pencil pushers: The oldest corporate rivalry?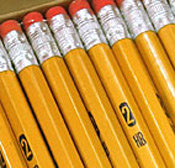 Even in this day and age of keyboards, two top pencil manufacturers are waging war, according to this Wall Street Journal article. German companies Faber-Castell and Staedtler. Both of them hold significant places in writing history: Staedtler is the first dedicated pencil maker on record and Faber-Castell was the first to brand top-quality pencils.
Sure, there's the regular competition that comes with companies in the same industry. You go to Faber-Castell if you want pencils made with fine woods and platinum holders. Apparently, a "luxury-pencil market" exists. According to Staedtler's Axel Marx, Staedtler is "technology driver" of pencils. And apparently, there's technology related to pencils. I wonder how much they spend on R&D.
But the real rub comes down to which company is the oldest pencil company.
In 1995, the company that now bears [Nuremberg carpenter Friedrich Staedtler's] name decided to mark 333 years of history. Faber-Castell celebrated by suing.

The count's lawyers argued that gaps of several years between businesses owned by various Staedtler descendants around 1800 interrupted the corporate lineage prior to 1835. That's when Johann Sebastian Staedtler established the company that remains today.
So who's oldest? The answer after the jump.
This year Staedtler will celebrate its 175th birthday. Next year, Faber-Castell will celebrate its 350th. But Staedtler may throw itself a party in 2012 to celebrate the 350th anniversary of its earliest antecedent. The company's namesake, Friederich Staedtler, is listed in city records from 1662 as a pencil craftsman.
Watch this video that accompanied this article for more about pencil and Faber-Castell v. Staedtler history:
Photo: Pencils of unknown provencance (Tim Boyle/Getty Images)
As a nonprofit news organization, our future depends on listeners like you who believe in the power of public service journalism.
Your investment in Marketplace helps us remain paywall-free and ensures everyone has access to trustworthy, unbiased news and information, regardless of their ability to pay.
Donate today — in any amount — to become a Marketplace Investor. Now more than ever, your commitment makes a difference.