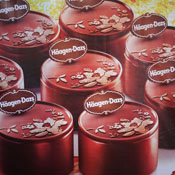 Marketplace's Rob Schmitz reported on the black market for mooncake vouchers that emerges every Moon Festival. Traditional mooncakes, what with their lotus-paste fillings and 1,000 calories, are sort of the Asian equivalent to Christmas fruitcakes. While less and less people actually eat mooncakes, the vouchers are still viewed as a token of respect — or an effective bribe.
If you don't feel like diving into a back alley to get overpriced mooncake vouchers or fight the crowds at a bakery, try making own. Traditional mooncakes are difficult to make, so people usually go to bakeries to buy them. Here are some simplified recipes:
*Lotus bean paste and red/azuki bean pastes can be found at Asian supermarkets.
Schmitz mentions in his story that one box of Haagen-Dazs ice cream mooncakes go for anywhere between $50-100 worth of vouchers. Save the money and try this recipe for coffee ice cream mooncake.
There's a lot happening in the world.  Through it all, Marketplace is here for you. 
You rely on Marketplace to break down the world's events and tell you how it affects you in a fact-based, approachable way. We rely on your financial support to keep making that possible. 
Your donation today powers the independent journalism that you rely on. For just $5/month, you can help sustain Marketplace so we can keep reporting on the things that matter to you.  
Latest Episodes From Our Shows