Corn syrup v. Corn sugar?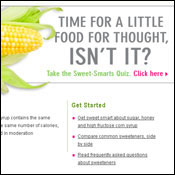 This final note today, one that pretty much writes itself, to be honest with you. The Corn Refiners Association has just about had it with the campaign against high fructose corn syrup and how in some studies its been linked to obesity. People have started not buying products that have high fructose anything listed in the ingredients. So refiners would like to suggest a new name. Today, they applied to the Food and Drug Administration to get "corn sugar" approved as an alternative.
The quote of the day comes from Audrae Erickson, the president of the Corn Refiners Association. High fructose corn syrup, she says, has been highly disparaged and highly misunderstood.
Photo: SweetSurprise.com is just one element of the Corn Refiners Association's campaign to counter the bad publicity surrounding high-fructose corn syrup. (SweetSurprise.com)
As a nonprofit news organization, our future depends on listeners like you who believe in the power of public service journalism.
Your investment in Marketplace helps us remain paywall-free and ensures everyone has access to trustworthy, unbiased news and information, regardless of their ability to pay.
Donate today — in any amount — to become a Marketplace Investor. Now more than ever, your commitment makes a difference.