Dear mom and dad, Wealth Camp's a lot of fun!
Dear mom and dad, Wealth Camp's a lot of fun!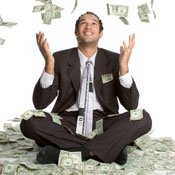 The rich always have their own special way of doing things, including summer camp. The Wall Street Journal talked to attendees of Citi Private Bank's "The Next-Generation of Wealth" conference. The company organizes a free five-day "camp" for some of its wealthiest clients. And by "free," you must pay your own way to the conference in Hong Kong and your family must have at least $10 million in the bank.
Learn more about this exclusive conference after the jump.
Instead of honing music skills or learning how to cook a burger on a tin can stove, these 18-to-34 year olds — this year's class was collectively worth $50 billion — learn about the importance of prenuptial agreements and how to deal with matching your parents' successes. Asian companies in particular tend to stay within families, so many attendees shared the sentiments of heiress Priscilla Masagung:
"The obligation to be involved in the family business is a predicament that many of us face," she said. "It's a sensitive topic for us."

The heiress's grandfather started the family empire from a kiosk selling books that now has evolved into a nationwide bookstore chain in Indonesia run by her brother.
But like many camps, it's not necessarily the activities that stick in the minds of the attendees:
"The most memorable part of the Next Gen was the parties," said Stevenson Lau, 29, who has attended the camp several times.
Below is a video about three conference attendees, including Lau, who started a company together.
As a nonprofit news organization, our future depends on listeners like you who believe in the power of public service journalism.
Your investment in Marketplace helps us remain paywall-free and ensures everyone has access to trustworthy, unbiased news and information, regardless of their ability to pay.
Donate today — in any amount — to become a Marketplace Investor. Now more than ever, your commitment makes a difference.