'Shrooms may ease anxiety in cancer patients
'Shrooms may ease anxiety in cancer patients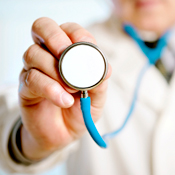 According to a study published in the Archives of General Psychiatry (abstract only), hallucinogen psilocybin (which to you and me, is known as "magic mushrooms") may noticeably reduce anxiety and depression in advanced cancer patients. The 12 patients in the pilot study were less depressed with one moderate dose of psilocybin compared with a placebo.
This isn't the first time that doctors and scientists researched the effects of hallucinogens on mood and anxiety problems. From the 1950s to the 1970s, doctors experimented with drugs like LSD. But once those drugs hit the streets, strict federal laws regulated the drugs and the medical studies were abandoned.
If medicinal marijuana gets legalized by the federal government, will the next drug legalization fight be over hallucinogens?
NYT: 'Magic Mushrooms' May Help Cancer Patients, Study Says.
As a nonprofit news organization, our future depends on listeners like you who believe in the power of public service journalism.
Your investment in Marketplace helps us remain paywall-free and ensures everyone has access to trustworthy, unbiased news and information, regardless of their ability to pay.
Donate today — in any amount — to become a Marketplace Investor. Now more than ever, your commitment makes a difference.