Money can't buy me love, but it can buy happiness
Money can't buy me love, but it can buy happiness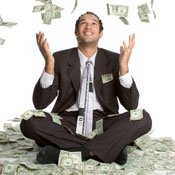 And this final note, if you don't care too much for money, 'cause money can't buy you love — well then, what if it could buy you happiness? A study in tomorrow's edition of the Proceedings of the National Academy of Sciences says the more income you have, the greater your sense of emotional well-being. Economists surveyed almost half a million Americans about their happiness and satisfaction with their lives. The effect of money on happiness capped out at around $75,000 in annual income. But the overall sense of success continued — the more money they made. Let's all hope the corner office is listening.
As a nonprofit news organization, our future depends on listeners like you who believe in the power of public service journalism.
Your investment in Marketplace helps us remain paywall-free and ensures everyone has access to trustworthy, unbiased news and information, regardless of their ability to pay.
Donate today — in any amount — to become a Marketplace Investor. Now more than ever, your commitment makes a difference.