Money can't buy me love, but it can buy happiness
Money can't buy me love, but it can buy happiness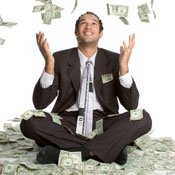 And this final note, if you don't care too much for money, 'cause money can't buy you love — well then, what if it could buy you happiness? A study in tomorrow's edition of the Proceedings of the National Academy of Sciences says the more income you have, the greater your sense of emotional well-being. Economists surveyed almost half a million Americans about their happiness and satisfaction with their lives. The effect of money on happiness capped out at around $75,000 in annual income. But the overall sense of success continued — the more money they made. Let's all hope the corner office is listening.
There's a lot happening in the world.  Through it all, Marketplace is here for you. 
You rely on Marketplace to break down the world's events and tell you how it affects you in a fact-based, approachable way. We rely on your financial support to keep making that possible. 
Your donation today powers the independent journalism that you rely on. For just $5/month, you can help sustain Marketplace so we can keep reporting on the things that matter to you.  
Latest Episodes From Our Shows