The best and worst of fast food
The best and worst of fast food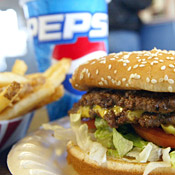 This final note today, we're going to do burgers in honor of the news about Burger King this week that it's been sold for $4 billion. Consumer Reports is out with its annual ranking of fast food. Burger King, despite its high price, was second to last out of 30. McDonald's came in last for burgers; first for fries. Topping the list was our own West Coast chain In 'N Out. My sympathies to those who've never had an In 'n Out burger.
Double double animal style for me, in case you're curious.
There's a lot happening in the world.  Through it all, Marketplace is here for you. 
You rely on Marketplace to break down the world's events and tell you how it affects you in a fact-based, approachable way. We rely on your financial support to keep making that possible. 
Your donation today powers the independent journalism that you rely on. For just $5/month, you can help sustain Marketplace so we can keep reporting on the things that matter to you.  
Latest Episodes From Our Shows