The best and worst of fast food
The best and worst of fast food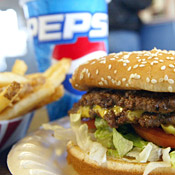 This final note today, we're going to do burgers in honor of the news about Burger King this week that it's been sold for $4 billion. Consumer Reports is out with its annual ranking of fast food. Burger King, despite its high price, was second to last out of 30. McDonald's came in last for burgers; first for fries. Topping the list was our own West Coast chain In 'N Out. My sympathies to those who've never had an In 'n Out burger.
Double double animal style for me, in case you're curious.
As a nonprofit news organization, our future depends on listeners like you who believe in the power of public service journalism.
Your investment in Marketplace helps us remain paywall-free and ensures everyone has access to trustworthy, unbiased news and information, regardless of their ability to pay.
Donate today — in any amount — to become a Marketplace Investor. Now more than ever, your commitment makes a difference.