Anticipation boosting gay wedding market in LA?
Anticipation boosting gay wedding market in LA?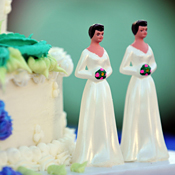 A federal judge upheld his decision to only temporarily stay his decision overturning Prop. 8, the proposition that was for banning gay marriage. That means the status quo — gay marriage is illegal in California — is still in effect, but gay wedding planners are already feeling the effects of the giddiness from the potential of gay marriage being legalized.
Dana Goodyear of the New Yorker stopped by some wedding shops in West Hollywood, a gay mecca, to see how business is doing.
"I'm terribly excited about it," Michael Willms, a gay Los Angeles wedding planner with an East Texas twang, said. "Before the ban was imposed, we had a seventy-five-thousand-dollar wedding that had to happen immediately, because the couple wanted to get married before the right to was rescinded."

Not that gay weddings entirely stopped when the ban came down. "We just did a fabulous wedding at the Nixon Library for a gay couple who have been together fifteen years," Willms said. "They have a replica of the East Wing of the White House there."
According to one cake shop owner in the New Yorker article, gay couples were ordering wedding cakes long before Prop. 8.
Tom Rosa, the owner of Cake and Art, a custom bakery that has been on Santa Monica Boulevard since 1976, said that he'd been making "commitment-ceremony cakes" for years. "We were serving the entertainment community," he said. "There were very flamboyant producers like Allan Carr, who threw those insane parties, Elton John, when he was heavily into drugs, Rock Hudson–the underground was very big, and there was a strong lesbian community up in the Hollywood Hills. The Barbara Stanwycks of the world never came out, but by their friends and the cakes they ordered you knew. You can learn a lot about a person based on what cakes they order and who picks them up."
August 18, the end of the temporary stay, may result in full legalization and may bring a huge wave of new customers to the Cake and Art. But then again, in Vermont, legalization of gay marriage didn't really boost the local wedding market.
There's a lot happening in the world.  Through it all, Marketplace is here for you. 
You rely on Marketplace to break down the world's events and tell you how it affects you in a fact-based, approachable way. We rely on your financial support to keep making that possible. 
Your donation today powers the independent journalism that you rely on. For just $5/month, you can help sustain Marketplace so we can keep reporting on the things that matter to you.  
Latest Episodes From Our Shows