Food Truck Nation: Photo Gallery
SEND US YOUR FOOD TRUCK PHOTOS
Today on Marketplace, Kai Ryssdal takes us out to lunch for a story on the food truck economy in Los Angeles.
LISTEN TO THE STORY: Food Truck Economy
But LA isn't the only city known for its mobile food. Cities like San Francisco and New York are inventing new ways to deliver good food to your street corner. In Chicago, an effort is underway to make mobile eateries legal on city streets.
Show us your food trucks
Help Marketplace get a broader view of the food truck economy around the country. Send us a photo of your favorite local food truck and we'll include it on our website and slideshow.
Send us an email
Use our Food Truck Nation contact form to upload your photo and send us a description.
FEATURED LISTENER PHOTO
Michelle Javan, of Seattle, Wash., Sent us this photo of her favorite lunchtime stop. Nickname: "Maximus Minimus"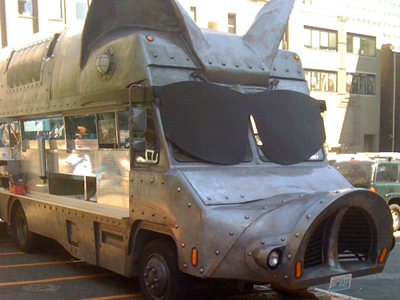 There's a lot happening in the world.  Through it all, Marketplace is here for you. 
You rely on Marketplace to break down the world's events and tell you how it affects you in a fact-based, approachable way. We rely on your financial support to keep making that possible. 
Your donation today powers the independent journalism that you rely on. For just $5/month, you can help sustain Marketplace so we can keep reporting on the things that matter to you.  
Latest Episodes From Our Shows