Hey pervs! Chatroulette saw what you did!
Chatroulette is this web site where you can have random (thus the roulette part) chats with strangers via the webcam on your computer. It was wildly popular when it first launched, largely among the curious and the pervs (and, I suppose, the curious pervs). People would go on there naked and do, you know, stuff. Now, Chatroulette founder Andrey Ternovskiy, a Russian teenager, says the company is logging IP addresses and saving screen shots of offensive users. And they're handing them over to law enforcement agencies. Sorry pervs! This comes at a time when Ternovskiy has been consulting with tech industry veterans from the US on how to take a popular idea and turn it into a legit business.
This is where I would ordinarily post a safe for work picture that goes with the theme of Chatroulette and pervs but a few minutes of searching left me grossed out and depressed so here's a picture of a kitty and a ducky: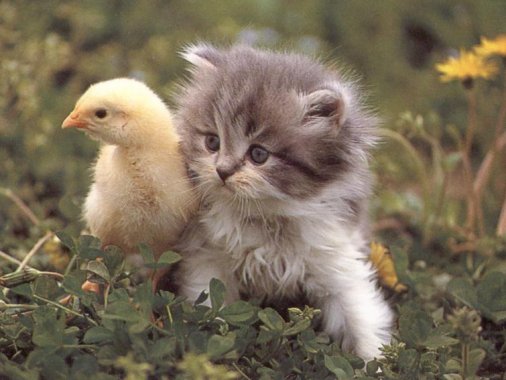 If you're a member of your local public radio station, we thank you — because your support helps those stations keep programs like Marketplace on the air.  But for Marketplace to continue to grow, we need additional investment from those who care most about what we do: superfans like you.
Your donation — as little as $5 — helps us create more content that matters to you and your community, and to reach more people where they are – whether that's radio, podcasts or online.
When you contribute directly to Marketplace, you become a partner in that mission: someone who understands that when we all get smarter, everybody wins.