Questions and answers about end-of-life care
Questions and answers about end-of-life care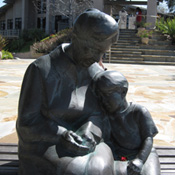 Today and yesterday on Marketplace, we ran a set of stories about end of life care. Yesterday, we looked at the economics of dying. Why is it so expensive? Do we get the care we want?
Today, we look specifically at palliative care. Palliative care is a relatively new specialty that's gaining broader interest among the medical community. A lot of palliative care is geared toward people with terminal illnesses, but it can also be applied to those with chronic conditions. Palliative care helps people manage their symptoms and ease suffering.
To report the story, I spent time at a hospice and palliative care training institute in San Diego. I followed the staff on rounds and sat in on their patient consults. I was struck by how they functioned as a team on each case. Every specialist weighed in on the patient's care. When we met a patient named Carlos with terminal cancer, everyone from the spiritual counselor to oncologist made recommendations for his treatment plan. There was even an aromatherapist in attendance who suggested Carlos apply scented lotion to his baby to encourage bonding. It was eye opening to see the level of creativity and compassion in the care that was delivered.
The other surprise for me was how upbeat everyone seemed. The director of the palliative medicine fellowship program at the institute – Gary Buchholz – said my reaction is common. He said most people think his job is depressing and it's often a conversation stopper. But he said, "When the patients feel better they start enjoying life and we focus on that. We focus on enjoying the life that they have and that feels really good."
If you have a story to tell or advice to offer, please, post a comment. And find more resources for patients, families, and healthcare providers after the jump.
Advice from the experts
I spoke with Rosemary Gibson, who wrote a great book called "The Treatment Trap," which offers some advice to those planning end of life care. She also writes about end-of-life-care at her blog. It walks through the variety of options available, and other tips and advice, like who you should be involved or consulted in the planning process. I also spoke with Howard Gleckman, who wrote "Caring for Our Parents." He also blogs here about the various issues family members deal with when a parent is ill .
Resources for health care providers
Pal Med Connect: A palliative medicine resource hotline 1-877-PAL-MED4
The Center for Palliative Care Education
Resources for patients and families
Six Questions for Your Doctor about Treatment Options
Talking with Others about Their End-of-Life Wishes
Companion website for the PBS series "On Our Own Terms: Moyers on Dying." Includes video from the series, resources, patient and community tools, and a glossary.
How to Communicate End-of-Life Wishes (PDF)
End of Life Decision Making
There's a lot happening in the world.  Through it all, Marketplace is here for you. 
You rely on Marketplace to break down the world's events and tell you how it affects you in a fact-based, approachable way. We rely on your financial support to keep making that possible. 
Your donation today powers the independent journalism that you rely on. For just $5/month, you can help sustain Marketplace so we can keep reporting on the things that matter to you.  
Latest Episodes From Our Shows