Rupee symbol a source of Indian pride
Rupee symbol a source of Indian pride
UPDATE: India's cabinet has selected its winner for the national currency symbol, beating out five other finalists in a national contest to determine the new graphic. India has long lacked a symbol for its currency and enthusiasts are pushing to bring the symbol to computer keyboard standards.
Indian scholar Udaya Kumar of Mumbai's Indian Institute of Technology submitted the winning symbol. The U.K.'s Guardian reports Kumar wanted the design "to represent the Indian flag. It is a perfect blend of Indian and Roman letters: a capital 'R' and Devanagari 'ra' which represents rupiya, to appeal to international audiences and Indian audiences."
ORIGINAL TEXT OF STORY
Steve Chiotakis: We all know the symbol for the U.S. dollar. England's pound sterling has a cursive letter "L" with a line through the middle. In fact, lots of world currencies have a symbol. But not Indian rupees; they're traditionally represented by the plain ol' English letters "RS" — until today. India's government will in the next few hours unveil a new symbol for the rupee, and that's led Marketplace's Rico Gagliano to wonder: Does anyone really care?
---
Rico Gagliano: Well, Indians care, a lot. That's according to Gunjan Bagla. He's a director at Amritt Inc., helping U.S. companies do business in India.
Gunjan Bagla: There is a desire among the Indian public as well as the Indian government to assert their position in the world. This is a symbol that will get reflected in usage by financial publications worldwide. You know, it may make its way onto computer keyboards eventually.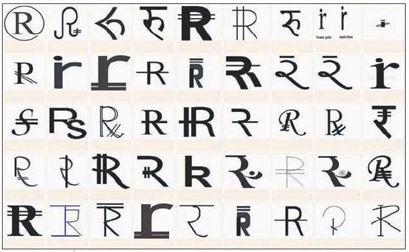 To view photos of some of the entries in the Rupee design competition, view our photo slideshow.
India's not the only emerging economy to try this. In fact, Douglas Mudd of the Money Museum in Colorado says India may've been spurred on by Russia, which has been trying to popularize a ruble symbol for the last three years. Mudd says the design of these symbols can be the subject of fierce national debate.
Douglas Mudd: Where previously, they were just symbols and they were important only in that they represented a currency, now the symbols have become a source of pride in some way, or at least a source of nationalist focus.
India avoided some controversy by holding a design contest. The new rupee logo wasn't invented by politicians; it was selected from thousands submitted by Indian citizens.
I'm Rico Gagliano for Marketplace.
As a nonprofit news organization, our future depends on listeners like you who believe in the power of public service journalism.
Your investment in Marketplace helps us remain paywall-free and ensures everyone has access to trustworthy, unbiased news and information, regardless of their ability to pay.
Donate today — in any amount — to become a Marketplace Investor. Now more than ever, your commitment makes a difference.