Cast of characters: The policy defenders
Cast of characters: The policy defenders
---
"It has to be kept unchanged at this time"
If China loosens the one-child policy, it could unleash a new baby boom, suggested Zhang Weiqing, minister of the State Population and Family Planning Commission, in a March 2008 interview with state newspaper China Daily.
"Given such a large population base, there would be major fluctuations in population growth if we abandoned the one-child rule now," he warned. "It would cause serious problems and add extra pressure on social and economic development."
The article makes at least two contested points: that the policy has prevented 400 million births, and that it applies to only 40 percent of the population. Critics of the policy say it applies to more than 60 percent of people, and that the policy is but one reason for smaller family size.
The China Daily piece describes the one-child policy as "indispensable" to population planning.
"The current family planning policy, formed as a result of gradual changes in the past two decades, has proved compatible with national conditions," Zhang said. "So it has to be kept unchanged at this time to ensure stable and balanced population growth."
In the 2008 article, Zhang noted China would experience a "birth peak" for the next decade. But after that, the minister said, "We may adjust the policy if there is a need."
The Academic
Economist Lu Ming, at Shanghai's prestigious Fudan University, argues if the policy is watered down, quality of life for Chinese children will be diluted, too.
In February 2010 opinion piece in the state-run China Daily, Lu writes:
"Considering the economic condition of most Chinese families, more children in a family would mean less money to spend on a child's education. This shows the higher the number of people, the lower their overall intellectual and productive quality."
Less people means higher quality people. China's countryside is filled with signs to that effect.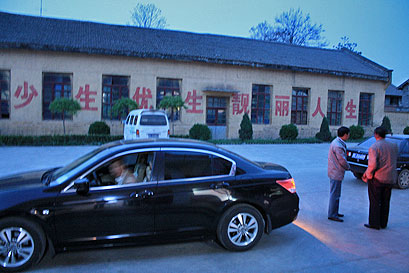 And many scholars say that was the premise of the one-child policy at its inception: raise income per person by allowing fewer persons.
Lu also argues loosening the one-child policy would unleash another population spike:
"It is obvious that once the family planning policy is loosened, most of the couples would choose to have more than one child. According to a survey on reproductive health, conducted by the National Population and Family Planning Commission, 35 percent of the woman respondents supported the one-child policy. But 57 percent of them said they preferred a two-child policy and about 5.8 percent wanted to even have
more than two children."
We should note demographer Liang Zhongtang — longtime critic of the one-child policy — and others disagree. For the past 25 years, a county in northern China has run a two-child policy experiment advocated by Liang. Despite the relaxed policy, the experimental county's population grew more slowly than the whole of China, according to the 2000 census.
There's a lot happening in the world.  Through it all, Marketplace is here for you. 
You rely on Marketplace to break down the world's events and tell you how it affects you in a fact-based, approachable way. We rely on your financial support to keep making that possible. 
Your donation today powers the independent journalism that you rely on. For just $5/month, you can help sustain Marketplace so we can keep reporting on the things that matter to you.  
Latest Episodes From Our Shows