Cast of characters: The enforcer
Cast of characters: The enforcer
---
Yikes
One-child policy enforcer. Birth police. Sounds scarier than taxman or repo man. But long-time family planning official Che Yuelian wears the badge with pride.
For decades, she's implemented family planning rules in Yicheng, Shanxi province. Yicheng's a rare county in China with a two-child policy for every household. Yes, it's a relaxed policy, but still there are rules to keep officials like Che busy: women can't marry til they're 23, men til they're 25. Women can have a first child at 24, and a second at 30.
We met up with Che in dusty Yicheng in Northern China. To get there, we went from highway to asphalt road to dirt road to find her in Xi He Shui village.
The ominous sign
Che Yuelian, the 64 year-old enforcer, lives in a one storey house in this village. A sign reading "Family Planning Office of Xi He Shui Village" hung next to the gate of her house. Inside, we saw the propaganda: wall posters introducing contraceptive methods, and certificates of merit for her work. Che told us her village population would have doubled in 20 years had she not done her work.
Talking women into sterilization
Che says she put her life into her work, and I mean "life." One year, Che had surgery to fix a slipped disc, but defied doctors' orders to rest. Though she could barely walk, she says she went to convince one woman to be sterilized. That woman had two children already, and the enforcer told her economically she could not afford another. Che made sterilization sound like a bonus.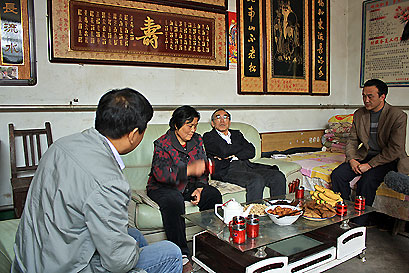 Then, in 1995, Che Yuelian's family had a big tragedy. Her youngest daughter died from a fatal disease. "I couldn't accept the fact. In two months, I didn't eat a lot and lost 15 kg," Che said. However, the brigade secretary asked her if she could keep working, and talk women into sterilization. Che says she dragged herself from house to house. When she told us the story, I couldn't tell if she was grieving for her daughter, or proud of her achievements.
Carrots and sticks for the enforcers; it comes down to money
Che Yuelian, as all the other village family planning enforcers, has no official title in either the government or the party system. But she sounds passionate about her job.
And she's financially motivated. Che revealed she'd be fined if she didn't meet her population goals set by higher-ups. Here's where the rub came, with her niece: the niece married at 22 and got pregnant, violated Yicheng's family planning rules. She was too young. She was one of seven women all violating the rules. If all seven gave birth, Che faced a fine of $15 per birth. Another village woman was illegally pregnant with her third child; if she delivered, Che would be fined $70.
"If I couldn't convince them to have abortions, I'd be fined
"If I couldn't convince them all to have abortions, I had to pay all the fines from my own pocket," Che said. Che never explained how she convinced her niece to have an abortion. But when I looked at her decisive expression, I realized abortion and sterilization are not optional here.
Che describes herself as a hero who guarded the country's interest. She makes no apology for forced abortions. We asked if villagers hated her, but she said no. She believes she helps China control its population, so the Chinese people can have a better quality of life. And that is exactly what the government wants the Chinese to believe.
There's a lot happening in the world.  Through it all, Marketplace is here for you. 
You rely on Marketplace to break down the world's events and tell you how it affects you in a fact-based, approachable way. We rely on your financial support to keep making that possible. 
Your donation today powers the independent journalism that you rely on. For just $5/month, you can help sustain Marketplace so we can keep reporting on the things that matter to you.  
Latest Episodes From Our Shows