An itemized list of what your taxes pay for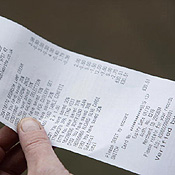 This final note today, toward a more consumer friendly Internal Revenue Service, perhaps The left-leaning think tank Third Way has a new policy paper out. It says we ought to get a receipt from the government when we pay our taxes.
You go to the store, you get an itemized receipt for eggs and toilet paper and whatnot , right? Third Way has mocked up the receipt for a person making about $35,000 a year. Among the specifics: $229 to pay for the wars in Iraq and Afghanistan, $1,040 for Social Security.